Keyboard shortcuts allow you to increase your productivity when designing diagrams for Objectives and Key Results, as well as Mindmap or Decision Tree diagrams.
Navigation
Arrow keys
Use the Arrow Keys to move around the items in the diagram. The function varies depending on whether you have the diagram displayed horizontally or vertically.
CTRL+Arrow keys
Used to expand or collapse actions in the diagram. When pressed, all sub-items will be expanded or collapsed.
SHIFT+Arrow keys
Used to expand or collapse the nearest sub-items. Everything else remains in the original expand/collapse state.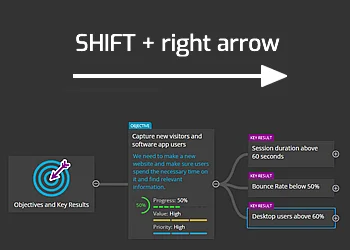 Editing elements
Enter – edit mode in the diagram
Alt+Enter – navigate to the left sidebar and back to the element in the diagram
Esc – exit edit mode
To quickly edit elements directly in the diagram, press the Enter key. You can then change the main text and confirm your edits either by pressing Enter again or by pressing Esc.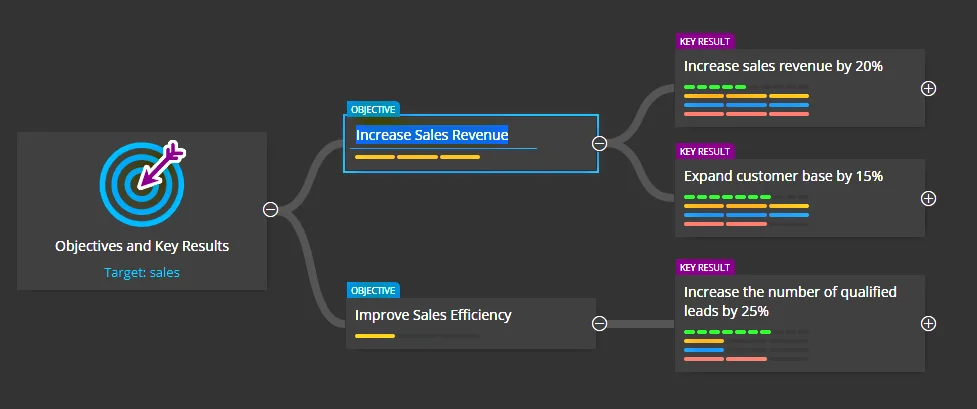 To move to the left sidebar, you can press Alt+Enter. Pressing Alt+Enter again moves you back to the active entry in the diagram.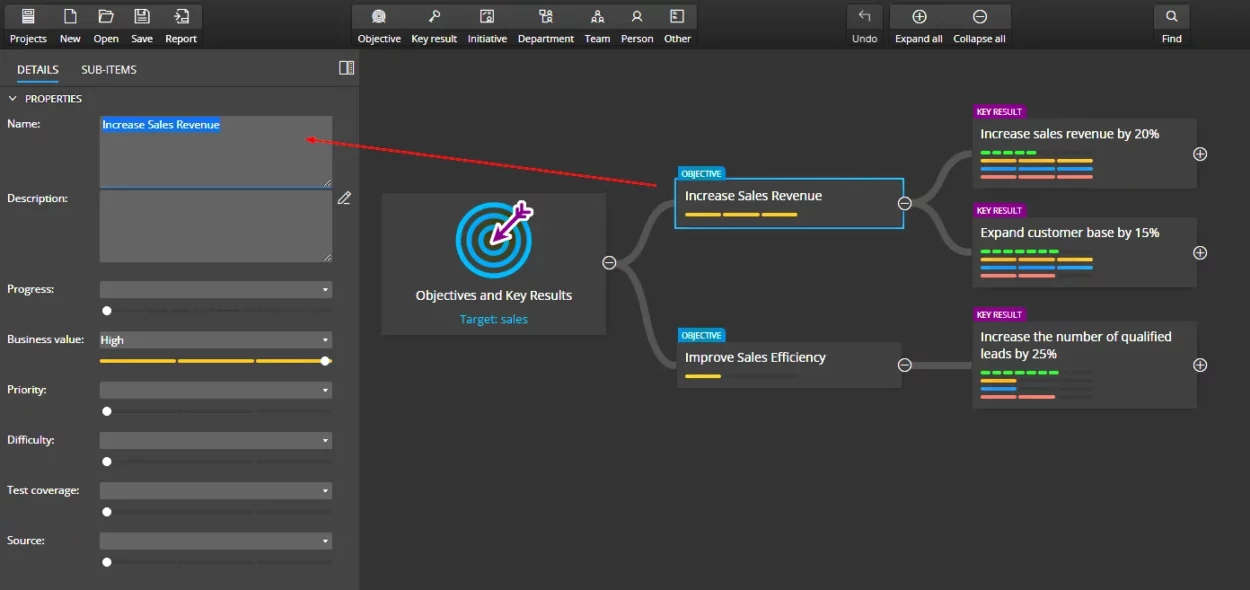 Adding new items
There are keyboard shortcuts available for each diagram type.
Objectives and Key Results

O – new Objective
K – new Key Results
I – new Initiative
D – new Department
T – new Team
P – new Person
H – new Other
Ideamap

I – new Idea
Decision Tree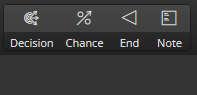 D – new Decision
C – new Chance
E – new End
N – new Note
Copy and Paste
CTRL+C – Copy
CTRL+V – Paste
CTRL+SHIFT+V – Paste as sibling
Classic keyboard shortcuts
CTRL+S – save project
CTRL+O – open project
CTRL+Z – UNDO
CTRL+SHIFT-Z – REDO
#